Sue talks to Uckfield Author Michael J Ritchie about his new book 'The Third Wheel'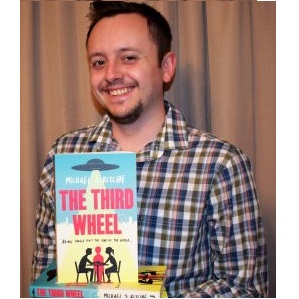 What is your book about?
It doesn't have a set theme. It's a mixture – friendships, family and growing up and has elements of comedy and tragedy. It also has an unusual element, adding aliens to the story line.
What led to you write it?
I have always wanted to write and publish my own books. I love fiction and studied creative writing at Roehampton Uni from 2006 to 2009.
My first book was written for NaNoWriMo, an online challenge to write a 50,000 word novel in 30 days, back in 2013.
My latest book, The Third Wheel, has just been published – 17th January 2019. I have a London-based publisher on board who created the book for me and its available to buy on Amazon, and some bookshops. The two books are not related.
How have you promoted it so far?
I have a website – https://michaeljritchie.com/ I've been on Uckfield FM, I'm @fellfromfiction on Twitter and Instagram too
Do you have a full-time job?
I work part-time in Uckfield but hope one day to be successful in a job related to writing or creativity. I have had a varied career so far, but hope things will progress in the right direction in the future.
So what's next?
I have another book in the pipeline, which again is unrelated to my previous books.
If you have something newsworthy you would like me to promote, please do contact me sue@sjemarketing.co.uk. I also welcome guest bloggers.