Looking Back
Four years ago, Daphne Tester – my Mum – agreed to let me publish her war diaries. She had written them in secret while serving in the WAAF from 1942 to 1947. Surprisingly no-one knew she was writing it. If she had been found out there would have been serious trouble.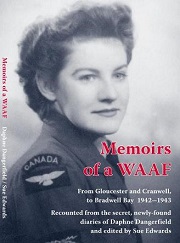 Our family would often get together at their house in East Grinstead, however she rarely spoke about her diaries, so we knew hardly anything about them, let alone the fact that she still had them. The 'find' is explained below.
In 2008 the difficult decision was made to move home. Mum and Dad had been finding their large four bedroom house and considerable garden, increasingly difficult to manage. On the build up to moving day I had a phone call from Mum asking about her diaries. It was a 'by the way' type of discussion. "Oh, I've found my old war diaries." she said, " I'd forgotten about these. I'm not sure what to do with them. What do you think? Shall I just throw them out". My immediate response was "Oh no, don't do that. Keep hold of them and I will have a look next time we come over". When we did, I was horrified that she had suggested throwing them. They were lovely – all leather bound, and the tiniest handwriting! Some of it I couldn't read at all. So, Mum suggested perhaps I could type them up in a document to give to the family. Within a few days that's what I started to do.
Before I started typing, I began reading some of the pages, to get the gist of her writing. It was really interesting, and I started to build up a picture of someone who it felt like I had never met before. I certainly couldn't relate it to Mum, although thinking back on it, I can see some similarities now. I also couldn't help laughing out loud at some of her funny remarks. I soon realised that these diaries were a rarity – a precious insight into a life of a serving WAAF. In fact a part of history. It occurred to me that if I found it amusing and interesting to read (although slightly biased!), surely others would too? So the journey to self-publish 'Memoirs of a WAAF' began.
End of the Road
Sadly, at the end of May 2017, my dear Mum passed away after a long-standing illness. It was then that I realised how precious the diaries were to me and I was so pleased that we had created the book together.
The weeks following her passing were extremely hard to cope with, but we got there. During the weeks before her funeral my brother, James, explained that he wanted to write a Euology about her. Jim, as I've always called him, devoted some time to it, then asked Dad and myself to add our thoughts. So during the next couple of weeks, we all got together and did exactly that. The whole document was too long at the start, but we found it quite difficult to make it shorter.
Daphne's History
Daphne Madeline Dangerfield was born on 6th of October 1923 in Guelph, Ontario, Canada to Bernard and Hylda Dangerfield the third of four children.
Her motherś sister had previously emigrated to Ontario, Canada and for reasons unknown Daphneś parents took the brave decision that it would be best for the family to emigrate following her sisterś footsteps.
In 1922 they left England by boat from Southampton and settled in Guelph, Ontario taking with them the unborn Daphneś two young siblings Val who was 4yrs old and Hec who was 2yrs old.
The family decided to move to Toronto eventually settling in a house on Roslyn/Yonge Street. Daphne used to toboggan with her siblings in the park at the end of Roslyn Avenue and frequently played with her cousins.
In 1925 Daphneś younger brother Ernest was born.
Daphneś father Bernard, then set up an Architectural firm with an associate in Windsor, Ontario to where the family again moved at some time between 1925 and 1929.
The great depression began in 1929 and her father had great trouble collecting fees due.
With no work in Windsor Bernard looked elsewhere, considering opportunities in Buffalo New York State and in Florida (but her mother was not keen about living in the USA). So, Bernard made several trips (back) to Toronto, following which the family 'packed up' and moved back there around 1931/32.
Daphne once told us of fishing trips out on the great lakes with her father and siblings and ice skating on the same lakes in winter (I remember she was the only person I knew when I was young who had their own ice skates).
The Great Depression was by then in full swing and one in five Canadian families relied on Government relief and food handouts. Daphne's family was no exception.  Life became so bad that the only money coming in was from brother Hec's paper round! Their Grandfather in England also sent money to help with the rent!
Growing up with these hardships, together with her brother Ernestś spina bifida health issues which Daphne got caught up with, left her with deep-rooted bad memories of Canada. We rarely if ever heard about our mother´s very different previous life and experiences. The only times I retrospectively became aware of her past was when she called just about everybody ´Sweetie´ (very Nth American), we ate Cranberry sauce way before it become ńormal´ in the UK, walked the dog ´round the block´ and when that small furry mammal running up the tree was a ´Squirl´ (Squirrel).
In 1933, with continuing hardships, Daphne´s father made an exploratory trip back to the UK. The family left Canada (when she was 11-around 1934) after Bernard was offered a job back in the UK and moved to the Harrow area and later 183 Watford Road, Harrow. The depression was not having such a great impact in the UK and with her father having work, life quickly became less harsh.
Daphne had to transition into a more rigid UK school environment starting at Ickenham High School for Girls in Ruislip (Pulled down in 1960 to make way for housing).
War broke out in 1939 ( while Daphne was still school) and was soon to become a fateful intervention in her life as with many young people at that time.
Daphne left school in 1942 and began working part-time at Wembley Town Hall in a secretarial capacity and clearly developed a skill in shorthand.
Quoting from her 1942 diary, after only three months of working ´seeing Servicewomen of every description strutting around looking most important' she felt she 'could do something more useful' and so set about talking her father Bernard into allowing her joining the forces. So Daphne applied and was accepted in the WAAF registering at the Gloucester reception centre on Sept 18, 1942 (# 2131416) and began training at Cranwell, Lincolnshire. After 2 months training and 7 days leave later she was stationed at Bradwell Bay Essex as an RTO.
War ended in Europe after the Nazis formally surrendered in May 1945 and she remained in the WAAF until demob in 1946.
While at Bradwell Bay Daphne surreptitiously kept copious diaries on her exploits and experiences some of which are captured in Daphnes  Ḿemoirs of a WAAF´book.
Meanwhile, she was re-posted to Acklington, Northumberland [year unclear] another fateful move that would change her life forever.
Every weekend there was a station dance in the NAAFI (a canteen) and one weekend in early 1946 she caught the eye of a young Sergeant Air Crew who had just been sent there with his Squadron, who had already noticed her on his first day. He asked her to dance. This Sergeant was Maurice Tester!
They saw each other regularly and often enjoyed cycling in Northumberland countryside. One favourite place was in Warkworth where they would end up in the Pub, which had views of the castle there.
On July 22, 1946, Daphne was demobbed and went immediately back to Harrow and started working again at Wembley town hall.
She kept in touch with Maurice by letter and he had brief visits to the family, and she visit Maurice at Tangmere, where he was still stationed, once when he injured his ankle playing rugby. Maurice was demobbed later we think in early 1947.
They wanted to get married, but the war had interrupted Maurice completing his Civil Engineering degree,  so Daphne continued working at Wembley while Maurice resumed studying,  at Southampton Uni.
In 1948/9 Bernard had a house built in Oxshott, Surrey where they moved, and around this time Hylda her mother had a serious stroke. Daphne again in typical character quit work to look after her.
Maurice graduated from Southampton 2 years later in 1949 and was invited to stay with the family in Oxshott. After about a year it was clear that Hylda wasn't getting better and D&M had to make the difficult decision that they could wait no longer to get married and start leading their own life. They were married on 6 July 1951 at St. Andrew´s CofE in Oxshott, with just parents, brother, and wife and a few friends in attendance. They honeymooned at  Doyden Castle, Port Quin, Cornwall, following brother Hec´s recommendation, as he had lived in the castle for a time while in the Navy Reserve in Cornwall.
Around 1952 Maurice got a new job at Bromley Council and Daphne an office job at the Court offices off Widmore Road and moved into a flat in Mottingham. After about a year a colleague of Maurice knew the owner of a flat in Widmore Rd and arranged a viewing for the couple. They immediately took the flat.
While in Bromley Maurice joined Bromley Cricket club and Daphne often supported from the deck chairs. Some good friends were made, some with whom contact has remained to this day. Badminton was also another favourite pastime and she also developed a love for knitting, including making complete knitted dresses!
Some four years later a son, (James), was born to them in 1956 at Farnborough and 3 years later a daughter Susan (me) in 1959.
Needing more space to live in, one day in 1960 they went for a drive with the young kids, ending up driving along Dunnings Road E.G., and saw AJ Wait houses for sale. An agent sitting in a hut showed them a plot where a new house was to be built and they immediately left a deposit. So a new life in a new direction began.
EG Cricket and later through recommendation the Hockey club became the focal points for social life and making friends, again many of whom have remained so until this day and some of whom are in this chapel.
Many of you may not know that Daphne battled with depression since having kids but still managed to bring her family up in an exemplary way and life centered around caring and being there for her growing family.
I recall she always made us home cooked food -I can never remember eating any junk food. She was always concerned with healthy living, food and exercise. James left home at 18 but Sue continued to live at home and Daphne continued in her role of 'hands on' caring mother until Sue was married.
Daphne developed many loves during those years-
Art oil and watercolour painting
Brass rubbing
Walking club -every Monday (with the dog) whatever the weather, in Kent and Sussex,
Yoga – Sue went regularly with her
TM
Volunteered regularly at Standen (National Trust)
She loved driving their MG
Casting my mind back I remember while I was in my mid-teens she liked to watch Horror movies (while Maurice was away on Bridge nights) late on Friday night, which I would watch with her.
Another regular feature in her life was New years eve parties when many of you would get together and celebrate,  dressing up in crazy outfits!
Daphne was graced with five grandchildren and when my ´share´ of those were young in the 80s/90s she helped Wendy and I on many occasions with them without which our lives would have been more difficult and similarly with Sue's family.
In 2003, while I was living in Vancouver, Canada Daphne for the first time in some 80 years re-visited her country of birth, albeit 2600 miles West of where she was born. There is nobody who visits Vancouver and is not spellbound and I believe that trip may have helped her to contextualise her old bad memories.
In late 2008 they decided it was time to downsize and found a retirement apartment in Portland Road East Grinstead.
Helped largely by daughter Sue and her husband Phil, they moved from Southlands, during which they discovered a pile of Daphneś war diaries (which she was not supposed to keep!). Daphne intended to throw them out, but Sue wisely suggested they keep them, as they were part of 'history'. Over the following two years, Sue, with Daphne's help, painstakingly transformed the diaries into the self-published 'Memoirs of a WAAF' – a book of her experiences and exploits during her first year in the WAAF. This sold out (300 copies) and still sells on Amazon Kindle.
The move to their fantastically convenient new location eased the burdens of a larger home and garden and they happily transitioned into their new life. Daphne began to experience issues with her stomach at around this time.
With advancing years their ability to look after themselves diminished and by 2016 decided it was time to move into a facility with hands-on care. In April 2016 they moved to Woodlands Residential Home in Crowborough, again with a large amount of help from Sue and husband Phil.
Daphne's intermittent stomach issues became worse and continued the numerous tests she had been having over those years. Every time nothing ´wrong' could be found. In the middle of 2016 Sue contacted me in Canada advising that her situation did not look good and that I should think about returning, which I did at end January this year.
Daphne was taken into TW Hospital at Pembury several times later in 2016 into 2017 and on Friday 28 April it was to be for the last time. Within 24 hours of being admitted we were advised that she had some kind of stomach blockage (hernia) but that it was not possible to operate due to her age. It became clear that this had likely been the problem all along but that it had never been picked up.
Daphne faced the impending closure of her life with what can only be described as the most amazing grace, strength and humour, enough to humble us all, but typical of the way she lived her long life. Every time she saw us during those weeks she had a smile on her face.
She made big efforts in those final days to speak about how she saw our family lives and personal achievements.  On Fri 5 May she said to me ´LOVE it´s all about love´. She was yet again not thinking about her situation or herself and told us to live our lives the way we thought fit and take care of each other.
Let this be how we remember her – loving and caring – always thinking about other people first.
Final thoughts
We (Dad, Phi and I) visited Mum every other day throughout her month stay in Pembury hospital, culminating in her passing and funeral. These were, without doubt, the worst and hardest days of my life. Every time we visited her we thought might be our last.
Now, we have to be positive and look to the future – we are sure that Mum would want us to remember the good times. Not a day goes by without me thinking of her. Sometimes I smile, and sometimes I cry. Pictures of her are always in my mind and thankfully we have lots of photos to remember her by.
The saying 'you don't know what you've got till it's gone' springs to mind and is quite true. Some of her last words were 'look after each other' and 'I love you' was exchanged each time we said our 'goodbye's at the hospital.
Mum, you are and always will be forever in my thoughts. Miss you! xx
More pictures to come!
Eulogy written mostly by James Tester, helped by Sue and Maurice (Dad). 
If you would like to be a guest blogger or you would like me to write an article for you, please contact me. sue@sjemarketing.co.uk