Sue talks Patrick Millward, owner of J F Bishop the Butchers.
When did Bishops first start?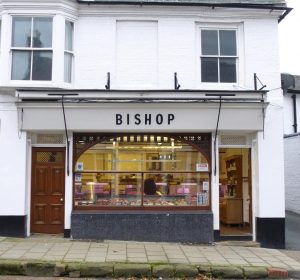 The business first started as Bannisters in 1921, then changed ownership several times from Burchett, to Alan Vaughan, then finally to its current name of Bishops. No-one in the family wanted to carry on the business, however it is not clear where the new name came from.
What is your history with Bishops?
Patrick said:
"I started as an apprentice, back in 2005 and was trained in every aspect of the business. I was very keen and showed enthusiasm and initiative, so in 2015 I took over the management. September 2016 was my first Christmas running Bishops and in February 2017 I bought the business.
Do you offer speciality meat?
Yes, we have several seasonal specials, for example special sausages, bbq meat, and of course turkeys and turkey breast.
Is it local?
Absolutely, we keep it local, and I'm sure our customers prefer it that way. Local nowadays means anything within 70 mile radius. Much of our meat comes direct from local farms and some from Smithall market in London.
Everything done on the premises
Carcasses arrive whole, then we let it hang for about 4 weeks in the fridge on the premises, which is kept at a constant temperature of 2 degrees. When its ready, and a customer wants to purchase pieces, it's cut up to order. Done this way the meat keeps fresh, succulent and retains its quality. If it's cut up too early the meat can dry out and turn dark. Also, the longer the meat hangs the better the quality. The quality of the meat and how the animal has been fed can also be assessed by the texture of the muscle.
What about waste?
We produce about one load of waste per week. Years ago we were able to sell our waste, but unfortunately nowadays we have to pay to get rid of it.
Do you deliver?
Yes, we do some deliveries, mostly local. On Fridays we do some residential deliveries, some pubs and some to caterers. We particularly do deliveries around Christmas.
What meat do you sell over Christmas?
We sell predominantly turkeys, (including whole turkeys and boneless turkey breasts), as well as chickens, geese and ducks. Our Christmas window is famously decked with many turkeys.
Christmas photos to come!
Article written by Sue Edwards, SJE Marketing on behalf of Patrick Millward of Bishops Butchers.
 If you would like me to write an article about your business, or you would like to be a guest blogger, please contact Sue@sjemarketing.co.uk or call 01825 761890 
Latest posts by Sue Edwards
(see all)