We all know that social media is time consuming, and which should you choose? The simple answer is it depends on your industry and your potential clients/customers. I would always suggest both, but personally I get more clients from Facebook than I do from Twitter. The online networking platform Linkedin also gives me business, but they all have to be used regularly and at the right time of the day.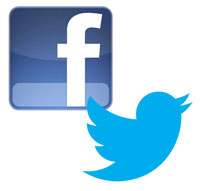 Who are your clients?
Firstly, establish who your clients are and where they are likely to look for you. Some may be ready to buy straight away, some not. If someone has recommended you, you probably won't have to work to convert them to paying clients.
So, establish and build your account, give it some time, and keep going, regularly. Don't forget to link to your website and vice versa.
My Top 10 are: 
Both Facebook and Twitter are very busy, fast moving platforms. The more you interact the more you will get noticed. I often meet new people who say they have seen me on social media.
Facebook is particularly good if you have a product or service that uses good images. Images = impact.
Enables you to find and connect easily with new contacts,
Join the conversation on groups (FB) or #hashtag groups on Twitter to connect and potentially gain business.
You can post at any time of the day, but ensure you schedule your posts via a platform like Hootsuite or Tweetdeck.
You can promote what you do as well as blog posts
If you retweet someone's post on Twitter or share something on Facebook its likely that person will say thank you and connect.
Research other profiles and you will find others that you want to follow or connect with.
If appropriate you can meet someone you've previously connected with on social media, or the other way around.
Once you are following each other on Twitter you can privately dm. Similarly you can ask to pm on Facebook.
Lastly, if you are new to social media, don't expect it to work overnight. It can take months to build up followers or likes.
Looking for help?
If you want to do social media, but either don't have time or don't know how, Sue offers either a management service to suit you or you can book one to one social media training. Learning on this basis is often more effective than doing group training as the focus is just on you.
If you want to know more contact sue@sjemarketing.co.uk or call 01825 761890
If you would like to submit a blog post please feel free to contact me. It must relate to small business.
Latest posts by Sue Edwards
(see all)